About Us
Here are seven things that make us J.C. Robinson
We're skilled
J.C. Robinson & Sons is ready to create a cost-effective custom plan to keep your home comfortable and efficient. We carry a full line of high-quality products and employ 50 staff, many of whom have been with us for their entire careers. With 30 staff devoted only to service and installation, J.C. Robinson & Sons possesses more knowledge in-house than any other heating and cooling specialist in the area.
We're experienced
J.C. Robinson & Sons is run by a member of the family's fourth generation, Courtney Robinson. In business since the 1920s, we have earned our place as the heating and cooling supplier of choice in Ottawa.
We're equipped
Our expert sales people and service technicians work with a wide range of tested and trusted products, delivering heating, cooling, and home comfort solutions that are second to none. J.C. Robinson & Sons is eastern Ontario's largest and oldest York dealer. We've been with York since the 1960s, so we know the products like the back of our hand.
We're local
When you call J.C. Robinson & Sons, you don't play the call centre game. The people who pick up the phone—night or day—are talking to you from Ottawa. Guaranteed. It's one more reason we're the most responsive heating and cooling specialist in the area.
We're responsive
Our 24-hour emergency service and local call centre offer you the confidence that you'll never be left out in the cold. When your equipment breaks down, our sales and service staff are standing by to take your next call or e-mail.
We're independent
At J.C. Robinson & Sons, we make our own decisions. Over the years, many of our competitors have been bought by national and international companies. Our choice to stay independent has enabled us to remain highly responsive to our Ottawa clients.
We support our community


We strongly believe that if you work in a community you should give back to that same community. We have chosen to donate for over 30 years to the United Way of Ottawa. We trust the United Way to find the right organizations that use our donations to identify and help solve the biggest social problems facing our community today.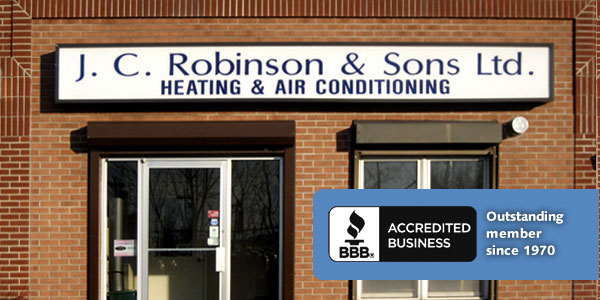 What Our Customers Say:
I have a wall-mounted air conditioner that had a musty smell. I called several companies in Ottawa to see what could be done about the matter. I found J.C. Robinson and Sons to be the most informative and knowledgeable. They sent out a technician to do the work which involved a thorough cleaning and fixing the drain line. He explained to me how the system works and what to do to minimize the probability of this problem happening again. I am very pleased with the professionalism and honesty of this company.Emmanuel M
J.C. Robinson is a great company. I bought a furnace from them that ran for 10 years before it had a problem. I called and talked to a real person. Then the technician called me and walked me through some troubleshooting before he even came over to make sure I even needed a visit. When he did come he explained all my options to me and wasn't pushy. He even showed me how to make my furnace run more efficiently. You get personal, high-quality service from a local family company. If I ever need a furnace or A/C again I wouldn't bother looking anywhere else.Sarah C