Filters


Controlling the air quality and climate of your home can result in exceptional health benefits. The process of improving the air you breathe is simple, economical, and can vastly improve your quality of life. Routine cleaning, humidity control, air cleaners, and the regular replacement of filters will help to decrease airborne allergens, resulting in fewer symptoms of asthma or allergic rhinitis. Thick, pleated air filters are your best defense against indoor contaminants. Particles, mold, mildew, bacteria, pollen, dander, odors and chemical vapors are filtered out of your indoor air so you can feel good in your home.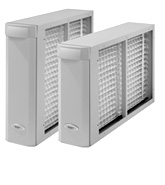 Indoor Air Quality: For Your Health In Ottawa
Aprilaire offers a wide range of quality air improvement products such as ventilation and zone control systems, dehumidifiers, air cleaners, humidistats and thermostats. J.C. Robinson & Sons supplies the products you need to keep your home clean and healthy, stocking Aprilaire brand filters right at the counter for your convenience. Aprilaire filters are assembled with a heavy-duty frame that defends against collapsing of the filter during installation.
Filters reduce dirt and dirt build up in air ducts, air conditioning and furnace systems, promoting efficiency, performance and healthier home climate. Make sure to check your air filters and follow recommendations for replacement and cleaning. Dirty filters are the main cause of cooling and heating equipment problems and breakdowns.
Air Filtration Experts in Ottawa, ON
Your central air or heating system may utilize an electrostatic filter to trap smaller particles than regular filters. Electrostatic filters trap charged particles by an oppositely charged plate in the unit. These devices need to be cleaned frequently in order to work effectively. Ask your J.C. Robinson & Sons representative for more information. Our HVAC specialists will make sure to match your needs with proper replacement parts.
When you're looking for genuine replacement filters for purifiers, air cleaners, humidifiers, furnaces and more, visit J.C. Robinson & Sons and our factory trained sales and service staff will help you select the right air filter for your requirements. For the health and comfort of your family, trust J.C. Robinson & Sons to provide the highest quality, most affordable and trustworthy products. Since 1923, we've distinguished ourselves as the premier provider of HVAC services and equipment in Ottawa, ON, building a reputation by combining superior brands with expert workmanship.
---
Indoor Air Quality Filtration in Ottawa, ON | Air Filtration Experts