Air Conditioning Installation
Air Conditioning Installations Near You In Ottawa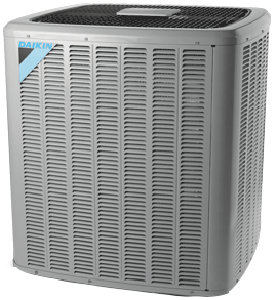 For some people, air conditioning is pure luxury.  For some, it's a practical investment in a healthier home.  At J.C. Robinson & Sons, we make sure it's both.  By installing only the most efficient, durable and effective cooling equipment, we ensure precise temperature and humidity control, guaranteeing a clean, comfortable environment for you and your family season after season.  You'll sleep better, breathe easier, and enjoy your summer like never before.
Why New Air Conditioning Installation Matters
For people allergic to molds and pollen, air conditioning is extremely helpful because it filters summertime air.  By installing central air conditioning or a window unit, you'll be able to keep windows closed, especially during times of high pollen counts and windy conditions.  Sleeping with windows shut is especially beneficial because grasses, weeds, and trees tend to pollinate during the very early morning hours.  You'll also avoid the safety risks of open windows.
Dust mites thrive in warm humid environments, and though they can't be totally eliminated, the number can be significantly reduced by the use of a dehumidifier or A/C to maintain relative humidity at around 50% or lower.  Since your cooling equipment functions as a dehumidifier, it limits the growth of mold and dust mites.  As an added bonus, airflow discourages cockroaches, since they gravitate toward non-ventilated spaces.
---
View Our Other Cooling Services Air Conditioner Maintenance | Air Conditioner Repair
---
AC Installation Company You Can Trust
When you invest in home cooling, you should never settle for anything less than the most precise and perfect fit for your specific expectations and requirements.  The rewards of quality cooling encompass reliability, quiet operation, complete comfort, and high efficiency.  By partnering with the leading name in the HVAC industry, J.C. Robinson & Sons brings homeowners in the Ottawa area the most powerful options in cooling at the lowest prices, backed by unmatched warranties and surpassing industry standards in energy consumption.  You can relax in a cool oasis without paying the price in monthly utility bills.
To handle the hottest weather, nothing compares to Daikin cooling equipment.  Designed to ensure years of dependable cooling comfort, Daikin offers a broad range of models to match style, cost and performance to the most challenging interior space.  Both cooling and heat pump type heating and cooling units are available for complete home temperature control.  Variable-speed swing and scroll compressors, innovative diagnostics, high-density compressor sound blanket and up to 24.5 SEER, sets Daikin above the competition.  You'll enjoy greater efficiency, humidity control and a comprehensive list of the most sophisticated features at a lower cost.  A condenser fan system allows for near noiseless operation for both interior and exterior environments.  For the perfect balance of temperature, fresh air and humidity, Daikin is your key to control of your indoor climate.
Call J.C. Robinson & Sons for superior cooling solutions in Ottawa, ON.  Our factory trained, extensively experienced technicians make the entire installation procedure, from choosing the perfect model for your exact space to the enjoyment of you new system, a convenient, straightforward, and rewarding process.  Contact us at (613) 733-2481 and rest assured you're getting the finest equipment, best service and top value for your cooling dollar.
---
Air Conditioner Replacement in Ottawa, ON | Air Conditioning Installation